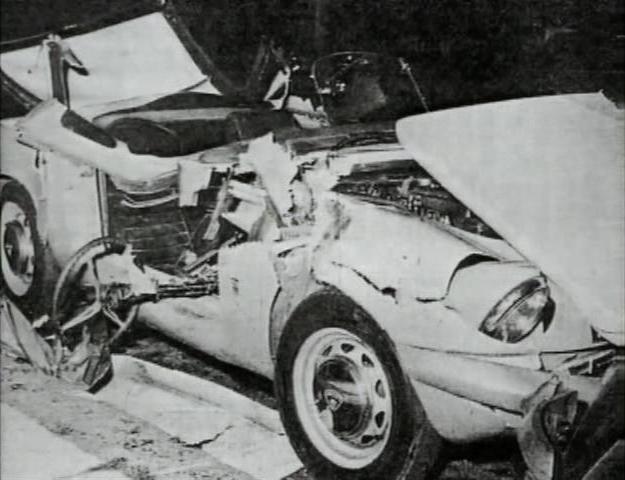 Tara Browne
gained immortality by being the inspiration behind The Beatles' "A Day In The Life". His father was a member of the House of Lords and his mother a Guinness heiress. In London in the swinging sixties he was one of the best connected socialites. But unfortunately in 1966 he met a grizzly end at the wheel of his Lotus Elan when he lost control at over 100mph whilst driving through South Kensington. At his side was the model
Suki Poitier
, amazingly she was not hurt.
John Lennon saw the story in the Daily Mail and penned these lines for the first verse of the song.
He blew his mind out in a car,
He didn't notice that the lights had changed,
A crowd of people stood and stared,
They'd seen his face before,
Nobody was really sure
If he was from the House of Lords.
Tara most definitely had love of fast sports cars and one that he owned really caught my eye. This was his AC Cobra that he commissioned the Pop Art collective Binder, Edwards & Vaughan (BEV) to paint for him.
BEV were very well know around town in the sixties and worked with many of the major pop stars of the time including Paul and Ringo of the Beatles. They produced all sorts of work; they painted murals in and on houses, they designed furniture, and they customized cars.
"A car by Binder Edwards & Vaughan an assisted ready-made is a neo-Dada contribution to polychrome sculpture."
Robert Melville in the 'New Statesman'
I think I know what you mean...
I've only found pictures of two cars that got the BEV treatment; Tara's Cobra, and also a 1960 Convertible Buick Electra which was used in many publicity shots and also featured on this Kinks album cover.
The Cobra, the Buick plus a ubiquitous 'must have' Mini are also featured in this Pathe new reel. It shows the Cobra being rather precariously driven out of Robert Fraser's art gallery in Mayfair with Tara at the wheel. What a sight that must have been (when I watch this I do expect to see Austin Powers drive around the corner in his union jack painted E-Type).

Pop Art On Wheels

The Kandy Striped Cinema Klub | Myspace Video
The cars where hand painted panel by panel as this quote from
Dudley Edwards
explains;
The preparation for all our work was the same. We began with a few coats of gesso which we then sanded down to a glass like finish. We would mix household gloss paint with Flamboyant Enamel (the paint used by fairground painters). This gave us a wide range of strong vibrant colours. The quality of finish was really evident on our next venture – customised cars. We didn't expect anyone to take the risk of having their cars painted without first seeing an example, so, to set the ball rolling we decided to paint our own; this was a Convertible 60 Buick Electra . Nowadays, designers of contemporary customised cars, treat every side of the car two dimensionally, by dismantling the panels before working on them independently; like flat airbrushed artwork on a drawing board. In contrast we worked by hand directly onto the vehicle, paying respect to the lines and curves, so that the work would be seen as an integral part of the whole.
There have been some great 'art cars' in recent years especially notable is the
BMW art car project
which has commisioned big names like Hockney,Warhol and Koons. I saw the rather vulgar
Hornsleth Lamborgini
at the 2010 Silverstone Classic and a
1975 BMW 3.3Li painted by Dexter Brown
was at the Chelsea Auto Legends show and is currently for sale. I'd not heard of the BEV cars before and I do hope something of them survived, it would be great to see them again, and they really do sum up a great time in London.